How does the concept of Prosperity relater to Livability? Is it maybe the difference between the objective "view form Nowhere" versus the experience of the 'Everyday?'
CONCERT URBAIN : pour une citoyenneté créative
See on Scoop.it – Le BONHEUR comme indice d'épanouissement social et économique.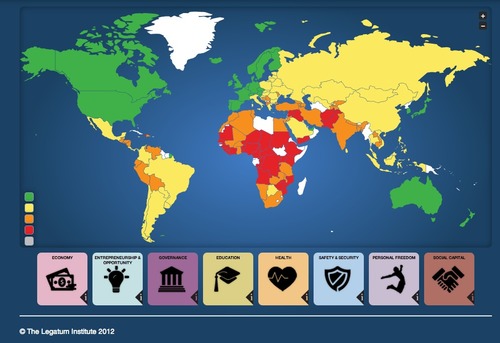 A unique global inquiry into wealth and wellbeing…
Still, how do we measure national happiness, well-being, and social capital as they relate to the way we plan our neighbourhoods, towns and cities?
One avenue is the Legatum Prosperity Index. "Wealth alone does not make for a happy and successful society. Happy citizens are produced as much by democracy, freedom, and entrepreneurial opportunity as they are by a growing economy." Of note, this index tracks social capital as well, starting to value people's connections and the higher levels of trust that result from frequent interactions.
via Via Jandira Feijó, Toni Sánchez
See on www.prosperity.com