While many of us landscape architects and the other technologists affiliated to our profusion believe that the discipline of landscape architecture holds the key to improving man's poor record of environmental and social justice, and that landscape itself is of greater value and worth that society places on it i.e. the value of public space and public landscapes to society for mental and physical health, recreation values and ecological services provided by urban green space as well as the economic benefits accruing to property owners adjacent to high quality green spaces, the money to fund these projects and to pay for the services of the providers of them, is sadly for the most part, not forthcoming. This appears to true no only here in Africa, but as a recent essay in ASLA Landscape Architecture Magazine by Brian Barth documents is the case in the USA as well and is likely a global problem.
As I commented in a previous post Design and the Future of Landscape Architecture, this very relevant to the current educational and work crisis that Landscape Architecture faces in South Africa and many other parts the world: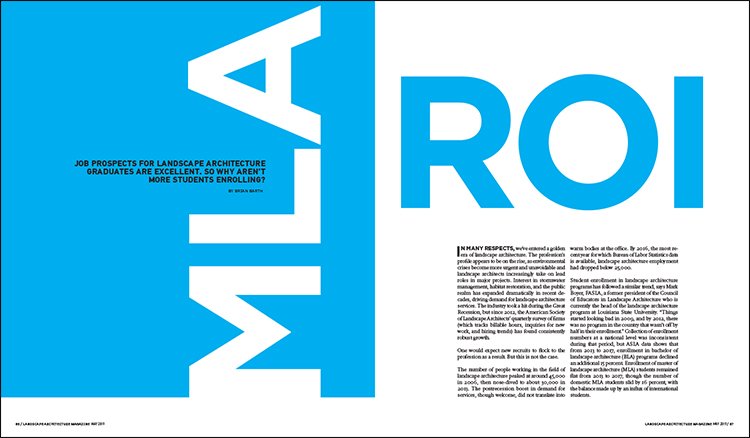 FROM THE MAY 2019 ISSUE OF LANDSCAPE ARCHITECTURE MAGAZINE.
These excepts from are from the MAY 2019 issue of LANDSCAPE ARCHITECTURE MAGAZINE and the full essay can be read there.
"In many respects, we've entered a golden era of landscape architecture. The profession's profile appears to be on the rise, as environmental crises become more urgent and unavoidable and landscape architects increasingly take on lead roles in major projects. Interest in stormwater management, habitat restoration, and the public realm has expanded dramatically in recent decades, driving demand for landscape architecture services. The industry took a hit during the Great Recession, but since 2012, the American Society of Landscape Architects' quarterly survey of firms (which tracks billable hours, inquiries for new work, and hiring trends) has found consistently robust growth.
One would expect new recruits to flock to the profession thus. But this is not the case. The number of people working in the field of landscape architecture peaked at around 45,000 in 2006, then nose-dived to about 30,000 in 2013. The post-recession boost in demand for services, though welcome, did not translate into warm bodies at the office. By 2016, the most recent year for which Bureau of Labour Statistics data is available, landscape architecture employment had dropped below 25,000.
Student enrolment in landscape architecture programs has followed a similar trend, says Mark Boyer, FASLA, a former president of the Council of Educators in Landscape Architecture who is currently the head of the landscape architecture program at Louisiana State University. "Things started looking bad in 2009, and by 2012, there was no program in the country that wasn't off by half in their enrolment." Collection of enrolment numbers at a national level was inconsistent during that period, but ASLA data shows that from 2013 to 2017, enrolment in bachelor of landscape architecture (BLA) programs declined an additional 15 percent. Enrolment of master of landscape architecture (MLA) students remained flat from 2013 to 2017, though the number of domestic MLA students slid by 16 percent, with the balance made up by an influx of international students.
Stephanie Rolley, FASLA, the head of the landscape architecture program at Kansas State University, says the gap between the demand for services and the supply of designers predates the recession. "We knew at least 15 years ago that we were not filling the positions of retiring landscape architects, so we've seen it coming. We just don't have enough people to fill the slots."
So what is it blocking prospective students from seeing the value of a degree in landscape architecture?
One way to assess the psychology of career choices is simple arithmetic: the cost of a degree divided by the income-earning potential it provides. In other words, the return on investment, or ROI, a person can expect from an education.
While there are many ways to crunch those numbers, and innumerable variables based on personal circumstances, student debt and median income are the most readily available apples-to-apples data for comparing education ROI across professions. According to Design Intelligence, the average MLA student leaves school with $39,284 in student loan debt. Median pay for landscape architects, according to the Bureau of Labour Statistics, is about $65,760 per year, for a 1.67 ratio of income to debt. For architects, the ratio of median income to graduate student debt is slightly better at 1.72; interior designers have it slightly worse at 1.32. I was unable to find student debt data for planners, though employment in the planning field is expected to grow 13 percent by 2026 compared to 2016 levels, about twice the rate of landscape architecture. Architects have the highest average income of the four professions (more than $78,000), but a low projected growth rate of 4 percent.
Those numbers provide little indication that allied professions are the culprit in siphoning off would-be landscape architects. Those fields are also haemorrhaging students: Graduate student enrolment in architecture and planning programs fell by 10 and 11 percent, respectively, from 2013 to 2016.
A more likely culprit is the information technology (IT) industry, in which the median pay is $84,580, and some specialties pay upward of six figures. Unlike law and medicine, which offer high income-earning potential but come with proportionally higher tuition, careers in tech are unlikely to incur greater education costs than the design professions, leading to a high ROI ratio. And for the entrepreneurially minded, the seven-, eight-, nine-, and 10-figure potential of tech executives dwarfs that of design firm owners.
While landscape architecture lost a third of its workforce during the recession, the tech industry barely registered a blip. Since then, tech has continued its march to world domination, or at least domination of the campus career office. A 2018 analysis by CompTIA, a tech industry professional association, found that IT job postings were up 30 percent from the previous year, with astronomical growth in some specialties: in artificial intelligence, 149 percent, and 370 percent for blockchain positions.
For the rare breed who pursues a career in landscape architecture, money is clearly not the driving force. But even students in mission-driven professions can be smart about maximizing their ROI."
Kristopher Pritchard, ASLA's director of accreditation and education, sees other changes on the horizon, albeit less charged ones, that the profession has little choice but to adapt to.
The growth of online education has added a wrinkle to students' choices, for example, with implications for both tangible and intangible value. Online courses tend to be cheaper per credit hour (though not always); you won't incur moving costs upon enrolling; the cost of rent is not a factor in school choice; and class time is flexible, making it more feasible to hold a regular job, or raise a family, while earning a degree.
Pritchard says that some landscape architecture programs now offer certain courses in an online format. He's heard from several schools who are considering a fully online landscape architecture degree program, but only one, the Academy of Art University in San Francisco, has done so to date (bachelor's and master's degrees are available). The Landscape Architectural Accreditation Board approved accreditation standards revisions to allow online programs a path into the accrediting process last year, though as of this writing the Academy of Art University has not pursued accreditation, which is required for licensure in some states.
Whether an online degree becomes accredited or not, it's fair to question its value in a profession rooted in collaborative studio culture. But in Pritchard's view, educators will have to find a way to make it work. "Online education is growing exponentially, and if we don't keep up with that, we're going to be left in the dark," he says. "I get a lot of calls about online degrees from people interested in studying landscape architecture, but they're working or have children, or some other reason prevents them from moving to a place with a program. So there seems to be a need out there among people wanting to get a landscape architecture education, but not in the way it's currently structured."
Pritchard points to another potential disruption down the road: Landscape architecture could one day be a master's degree-only profession. "There's a question floating around about whether that's where we are headed," he says, noting that while BLA enrollment has dipped, MLA enrollment has been steady enough to encourage three new programs to open since 2013. But that steadiness rests on the fact that 41 percent of MLA students now come from other countries, mainly from China (see "ICEd Out," LAM, February). Pritchard worries that trend may not continue indefinitely. "We're looking at what's going to happen to those programs if fewer international students enroll, because of visa issues or whether they'll even be allowed to come because of their nationality…or whether they'll even want to come here based on some of the politics that are happening right now."
Would a greater emphasis on high tech help siphon prospective students from the IT orbit? Pritchard thinks it wouldn't hurt. He occasionally hears from students who complain that their professors seem to be stuck in the Stone Age. But ultimately, the problem lies in where society places value, not in the actual worth of the profession. To avoid being left behind in a fast-paced world, landscape architects have to get better at selling their brand, demonstrating that the future lies not in the next great gadget but in healthy ecosystems, healthy cities, and healthy people.
"I think that our profession has not adequately explained what we do and generated public understanding of how landscape architects' work impacts quality of life for people," Rolley says. "It's something there's been a lot of talk about, but not enough action."
I herewith repost eh response ot he is article form Tricia to this article _ it makes lot of sense to me :
Tricia
I humbly offer a comment to this story. My intention is to offer a different point of view and a possible solution or two. I have done a bit of research and from my own experience in LA school – studio needs to be re-imaginated. Those classes were my biggest expense and sorry to say I got very little knowledge from it. Yes, part of the issue with LA schools is the expense. Why is it so expensive? Studio. And it's not just LA but Architecture and Interior Architecture studios as well. Personally, I was surprised by the teaching methodology for teaching students how to do a project. I can only speak for my school. There was no teaching actually. It was students attempting to teach each other and critique each other's projects instead of the instructor. Sometimes we got feedback from the instructor – but rarely. All of the time students we just given examples and then told to go figure it out with no reference material and no instruction. Our only option was to find and watch YouTube videos to learn software and graphics. I did my homework. The book "Landscape Architecture Research: Inquiry, Strategy, Design" by Deming and Swaffield describes this teaching method as a process. huh?? What !?? Okay for the record, since the LA schools were inviting people from different majors to go to their graduate schools and "bring their ideas". Be careful… I have a few. First of all, I whole hardly disagree with this teaching method. To date, I have not found good scientific studies in the Psychology of Learning journals to back this up. None. And secondly, this was just blind leading the blind and no one was (actually, even though we all pretended to smile) happy – neither students nor instructors.
There is another point to make as well. Most of the ads I've seen for firms require a license and experience. There are very few who offer entry level. One reason I've heard over and over again is that we don't want to invest in teaching you – for you to leave. Well then, I suggest that the managers learn how to teach in order to bring their entry level people up to speed faster. Since LA is so broad maybe we should take teaching more seriously but other professions need to teach better too.
In conclusion, part of the issue is, in my professional opinion, that college programs and employers go back to school too, and learn "how to" teaching methodologies. LA is a fantastic profession! And, I've meet people who would love to do it. We can make it affordable. We can teach better. And, we must. Our planet's ecological systems might depend on at this point. Thank you for reading this far. I hope it gives everyone some food for though