It's the world's biggest food park with over a kilometre of shops, big brands, even farm animals. But is Eataly World a betrayal of Italian gastronomy?
via Eataly World opens but leaves a bad taste in Bologna | Travel | The Guardian
Theme parks are nothing new and urbanists, architects and landscape architects are divided  about their value, when the theme becomes a nations rich heritage of artisanal food and agriculture one wonders…… You can be the judge – would your rather go to his "supermarket " or the old markets?  For myself the markets win, but what if they all become like Venice: a giant shopping centre of global fashion and a cultural vacuum?
What a promo vide here: EATALY
Italy's "City of Food" has a new attraction. After wandering the alleyways of Bologna's Mercato di Mezzo – which is filled with local, family-owned grocers such as the well-known Atti & Figli bakery, or Tamburini of tortellini fame – visitors can now take a 20-minute shuttle bus from outside the central station to Fico Eataly World, where food from all over Italy is on show.
Inaugurated by prime minister Paolo Gentiloni on 15 November, Eataly World claims to be the world's largest agri-food park, and promises visitors "a discovery of all the wonders of Italian biodiversity" under one vast, 100,000 sq m roof. However, many are struggling to make sense of a project that stands in direct contrast to the traditional allure of Italian gastronomy – the pleasure of meandering the farmers' markets in Renaissance town squares, or sampling the delights of small producers in remote hilltop towns.
To enter Eataly is to step into what can only be described as a US-style megamart, a Wholefoods on steroids. The site used to be a wholesale market, built in the 1980s, and the original A-frame barn structure supported by big wooden beams forms an L-shaped walkway that stretches for more than a kilometre.
Inside are more than 45 branded Italian eateries, which according to Fico are "bonded by a passion for excellence and the role they play in producing and promoting the best of Italian food and wine". The kitchens in the restaurants are visible behind glass panelling, and host over 30 daily sessions to educate the consumer on food production, be it how to make William Di Carlo sugared almonds from Abruzzo, or how Olio Roi presses olive oil using its in-store press.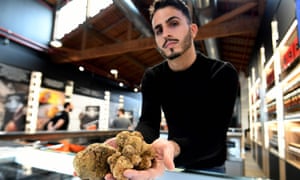 There is a multitude of pop-up-style stores, selling Italian produce and kitchenware; six experiential educational pavilions; several classrooms, sports and play areas dotted throughout the space; as well as a cinema and 1,000-capacity congress space. It's all surrounded by a pristine outdoor area, with several hectares of farm animals and vegetable plots.