RAINWATER ON THE PLAYGROUND – MAKING DRAINAGE A PLAY FEATURE
August 25, 2023 | by shivam saxena
In our Southern African context, play spaces are often neglected and under funded, poorly maintained and even dangerous places, but the need for them is ever more pressing as safe havens for mothers and their children in densely populated and disadvantaged areas. Using natural features and making a feature of essentials such as drainage to stimulate creative play  is a simple and effective way to stretch budgets and get more out of the space – these ideas and references from Playscapes which is a very interesting resource for Landscape Architects in need of ideas.
Learning through Landscapes also produced an insightful report on the Berlin schoolyards, with many great images, including those above.  There's a wealth of inspiration in these schools' tolerance for untidiness, their insistence on sand rather than mulch or safety surfacing,  and the 'reprofiling' of school yards to introduce slopes and dips….it's a must-read document.   One aspect of the report is the use of drainage as a play feature.  When you do hear about playground drainage it's usually as a problem! But these schoolyards consistently see it as opportunity,  channeling the flow with gentle swales and valleys, places kids naturally like to play.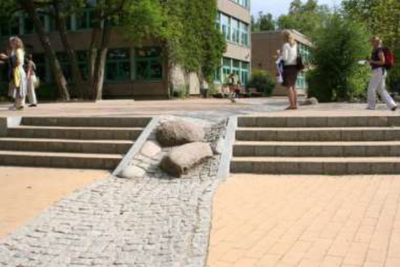 The water course can take various forms, from an artistic mosaic to a boulder-strewn stream bed.  You can of course add piped-in water to these features, but I like the way using rainwater introduces a seasonality and changeability to the playscape.
The ever-helpful London Play have produced a document all about playing with rainwater and sustainable drainage strategies with loads of helpful tips and great site examples to inspire your own rainwater playscape.